The Holybuttons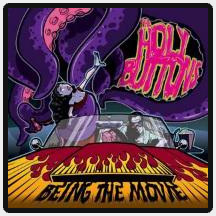 Dentro del panorama hardcore melódico estatal, pocas bandas he conocido como estos The Holybuttons. Aunque tenemos serios referentes como los gallegos Saldos Arias(altamente recomendables), pocas bandas se atreven a mirar fijamente a los ojos de grandes grupos de la escena internacional como No Use for a Name o Useless ID. Estos chicos están al nivel.



En su nuevo álbum, este "Being the Movie", The Holybuttons parten de un sonido punk rock acelerado presentándonos una colección de temas directos al grano y sin muchas concesiones. Con un trabajo de guitarras bastante logrado, oportunos coros más agresivos y buenos estribillos, su estilo se podría comparar al de las bandas que hoy en día están redefiniendo el género como Four Year Strong o Set Your Goals. Todo ello unido a las letras en inglés y una producción más que aceptable hacen pensar que pueden tener un futuro fuera de nuestro país.



Con la caña y la melodía bien proporcionadas en sus medidas justas, el disco entra como el agua. Los dos primeros temas dejan bien claro que cuando se ponen, pueden sonar potentes y agresivos y suponen una apartura del disco inmejorable. Poco a poco empiezan a entrar las melodías más accesibles, en las que también demuestran estar bien entrenados. Mención a parte de temas como "Madeleine" o "The Junk", con esos aires a NoFXque aportan aún una dimensión más a su estilo.



Los chicos de Terrasa han pasado la reválida con buena nota y se posicionan como uno de nuestros grupos más interesantes dentro de la escena. Merecerá la pena seguirlos de cerca de aquí en adelante.

Lo Mejor : Buenas melodías y canciones directas al grano. Buena producción sin caer en el pop-punk.



Lo Peor : Se agradecería mayor variedad en las voces y más temas agresivos, que les quedan muy bien.

www.myspace.com/theholybuttons

Encuéntralos en Facebook también.

Tracklist



01. The kids are getting angry



02. I am falling apart



03. Out screening crap



04. Skinhead since 24h



05. Rare but common



06. Madeleine



07. Pink Shell



08. The Junk



09. I am not an anarchist but nowadays I am feeling like



10. Sorry



11. Feeling 2.0



12. Accepted Crimes



Miembros



Pene - voz y bajo



Rewan - guitarra y voz



Del Toro - guitarra y voz



Tita - batería



------------------------------------

por Israel Higuera